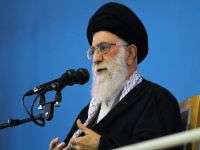 Imam Khamenei: "The U.S. is the main terrorist in the world"
The Leader of the Islamic Republic of Iran, Imam Seyed Ali Khamenei, made mention of the many plots hatched in U.S. history against the Iranian nation. He reiterated Wednesday that the regime in the White House is the principal terrorist in the world.
Imam Khamenei, during an address directed to young students, on the eve of Student Day, has emphasized that Tehran has evidence in the hundreds, unquestionable, revealing Washington's role in supporting anti-Iranian terrorist groups against the Persian nation and the region, reports Press TV.
The guide of the Islamic Revolution has been considered the worry of the enemy for the diffusion of the Iranian "religious democracy," the solid model before the the rest of the world, the main reason why the White House tried to impute the government inTehran in an alleged "plot" to assassinate Saudi Arabia's ambassador to the United States.
"However, each individual, prudent and wise in the world, concludes that this corresponds to an unfounded and ridiculous script," added the great Iranian leader.
"The U.S. government tries to accuse the Iranian authorities of terrorism, however, the main roots of terrorism are fed from that same Washington," he added.
According to Imam Khamenei, the U.S. tries to mislead the American public about defeat in Iraq and Afghanistan. Moreover, Washington does not hesitate to blame Iran for the emergence of protests by the "Occupy Wall Street movement."
Similarly, it considered that the demonstrations in the United States and in 80 other countries against the liberal democratic system, show more than ever the collapse of Western capitalism.
November 4th, Student Day will be held in Iran, coinciding with the commemoration of the storming of the U.S. embassy in Tehran, which lasted from November 4, 1979 to January 20, 1981.