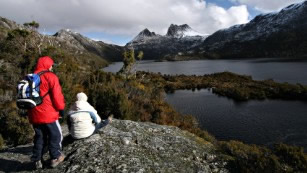 Would a taste of the finest Swiss chocolate make you happy? Or soaking in the warm Icelandic springs? Perhaps the great jazz and rock music scene in Denmark is for you?
It's not just the fun activities that make locals and travelers to those countries happy, according to the third World Happiness Report, released by the Sustainable Development Solutions Network for the United Nations on April 23.
People who live in the happiest countries have longer life expectancies and more social support, experience more generosity, have more freedom to make life choices, have lower perceptions of corruption and have a higher gross domestic product per capita, the report shows.
The tiny country of Bhutan, a very happy country famous for measuring the "Gross National Happiness" of its people, gets the credit for focusing world attention on happiness: Its Prime Minister proposed the idea of a World Happiness Day to the United Nations in 2011.
Recognizing "happiness and well-being as universal goals and aspirations in the lives of human beings around the world," the U.N. General Assembly declared March 20 as World Happiness Day in 2012. This officially designated happy date marked its fourth year last month.
Through the happiness report, the Sustainable Development Solutions Network hopes to encourage governments at every level to measure and improve their people's happiness.