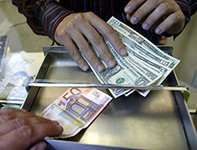 President Obama is threatening with non-payment of pensions if the government fails to increase the national debt ceiling. The most powerful populist arguments are being used, but Obama has yet to succeed in breaking the resistance of the Republicans in Congress. Experts are speculating: the country is actually threatened by a default, but the U.S. is an unusual economy.
Obama said that he "cannot guarantee" the payment of retirement benefits in August to 27 million people. According to Obama, it all boils down to the legal size limit of public debt that currently is at $14.3 trillion. White House proposes to increase the upper limit by $2.4 trillion. There is a joke in the United States that Obama asked his finance minister: "What number comes after trillion?"
Over the past two years the U.S. budget deficit rose to $2.8 trillion. It is more than it was in the previous 10 years. In February of this year, Obama introduced to Congress a draft budget for 2012 fiscal year with a plan to reduce public spending by 1.1 trillion over ten years.