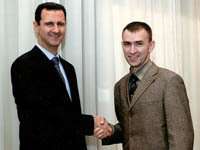 Until recently, Syrian President Bashar Assad was not open much for communication with journalists. Representatives of many leading TV channels in the world tried to have an interview with the Syrian leader. Foreign reporters complained that they had to wait for the answer for months. However, Pravda.Ru correspondents found out that it was not hard to have a meeting with the Syrian president.
It is enough to fly to Damascus. The Syrians did not even search the correspondent of the Russian media outlet prior to the meeting. The Syrian president sat down for an interview with Pravda.Ru at his residence in Damascus, the capital of Syria.
"Until recently, you were considered a respectable leader in the West. Why do you think the situation has changed so much?"