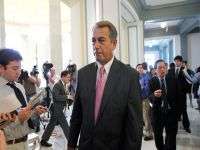 Obama has five days to get Congressional authorization for the intervention in Libya and must answer for armed actions in Libya before Sunday.
The United States House of Representatives on Tuesday demanded an explanation from the president, Barack Obama, on the operations that the country is taking in Libya and warned that failure to get congressional authorization for these actions before Sunday could be violating the War Powers Act.
The Speaker of the House of Representatives, John Boehner, explained in a letter sent to the White House that the Government must obtain authorization or cancel the operation in the African country, otherwise it is in violation of the regulations.
''It seems that within five days the administration will be in violation of the War Powers Resolution if it doesn't ask for and receive authorization from Congress or withdraws all troops and U.S. resources from the mission," expressed Boehner.