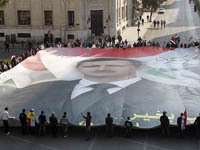 The situation in Syria and around it is becoming increasingly volatile. Following the sanctions imposed by the U.S., EU, Turkey and the League of Arab States (LAS), the armed detachments of mercenaries from Libya have been put to use. The troops of the former Libyan rebels are ready to join the armed rebels of the "Free Syrian Army."
On November 29 Arabic website "Al-Rai Al-Arabi" reported that some 600 Libyan volunteers, who want to participate in the overthrow of President Bashar al-Assad, came to Syria through Turkey. The site indicated a representative of the current leadership of Libya as its source. Strictly speaking, this can hardly be surprising. The current Transitional National Council (TNC) first recognized the Syrian National Council as "the sole legitimate representative" of the Syrian people.
The "Free Syrian Army" in some way is a clone of the Libyan rebels. It was formed in the border areas with Turkey by the Syrian army defectors. They had frequent clashes with the government forces. Last week, they attacked the buildings of the Air Force of the Syrian Intelligence but were unable to seize them. According to some reports, Turkey and Libya have already had a series of talks on the supply of Syrian rebels and volunteers with arms. Now it seems that the first "well-wishers" from Libya have arrived.