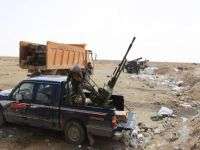 NATO holds its fire as Moammar Gadhafi's forces advance 100 miles into rebel territory. It then blasts a rebel tank, saying it didn't know the rebels had any — even though footage of rebels with tanks had been on YouTube for weeks.
NATO's leadership of the Libya campaign is coming under increasing criticism for mistakes and ineffectiveness. Nine difficult days of leading the air war have brought into sharp relief the confusion, ambiguity and constraints of the alliance's mission.
"This is something new. We haven't had a significant military operation in which the Americans have taken a back seat for quite some time," Malcolm Chalmers, a professor of defense at London's Kings College, said Friday. "It really is unclear whether the Europeans can rise to that challenge."
The NATO bombing of a rebel convoy on Thursday, in which five people died and at least one rebel tank was destroyed, appears to have crystalized the perception — to outsiders, at least — that the alliance is running a bumbling campaign.