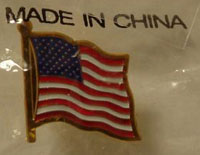 Barack Obama is on a risky path toward further confrontation with the Chinese. As his massive economic stimulus package makes its way though Congress, Uncle Sam's biggest trading partners are warning that we face a spiral of protectionist policies.
The House-approved version includes a "Buy American" provision that generally prohibits the purchase of foreign iron and steel for any infrastructure projects in the bill. Trade officials in Canada and Europe have already voiced concern.While it may not hit the Chinese economy directly, the provision has the potential to stir up a nationalistic backlash among government officials in Beijing.
China's fragile social compact might be shaken by the experience of economic hard times for the first time in the reform period started over thirty years ago. Kenneth G. Lieberthal, visiting fellow at the Brookings Institution, warns that the Obama administration may take a tougher line with China, according to the NY Times. "The Chinese are probably one of the few people in the world who were sorry to see President Bush go, and are nervous about his successor."
Obama is testing an already shaky bilateral relationship. The new president committed a gaffe last week by allowing his nominee for Treasury Secretary, Timothy Geithner, to say the administration "believes that China is manipulating its currency." Beijing reacted angrily.